---
Background
---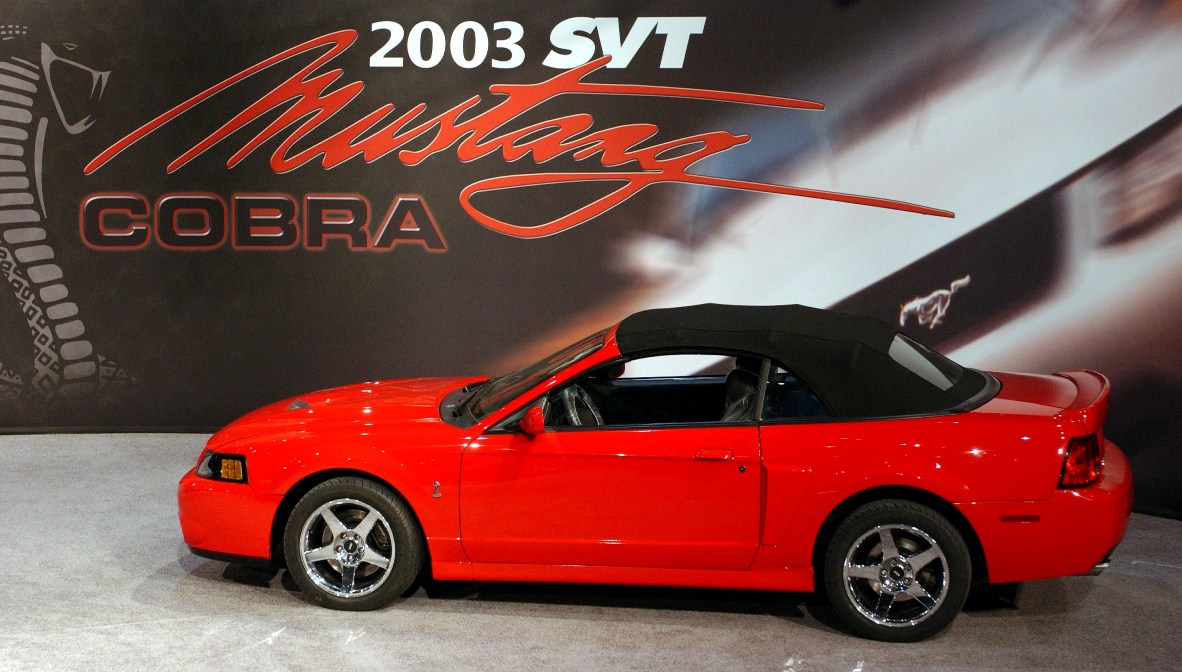 Featured

As much as I'd like to lay out the entire history of the 2003 Cobra, there is nothing I could add that really hasn't already been written. It is worth remembering, however, that the development of the proposed 2002 Cobra was transferred from Team Mustang to Team SVT which then opened the door for what became the Terminator. The performance of the newest Mustang fell short of what was expected in the eyes of then-SVT boss John Coletti, and after the fateful "Western Drive" in 2000, the soon-to-be 2002 model was history. What ensued was a fast-paced program that was one for the record books (or a very cool book by Frank Moriarty!).
The new Cobra was well received by Mustang fans, and true to its moniker, it was out to "Terminate the competition" with 390 Hp and 390 lb/ft of torque. Unless you've been out of touch with the Mustang world for the last ten years, it would be hard not to know what went in to the development of its supercharged engine (see my Engine page for some great info). There is just no denying that the 2003 & 2004 Cobra's are still revered, and definitely not without a loyal following!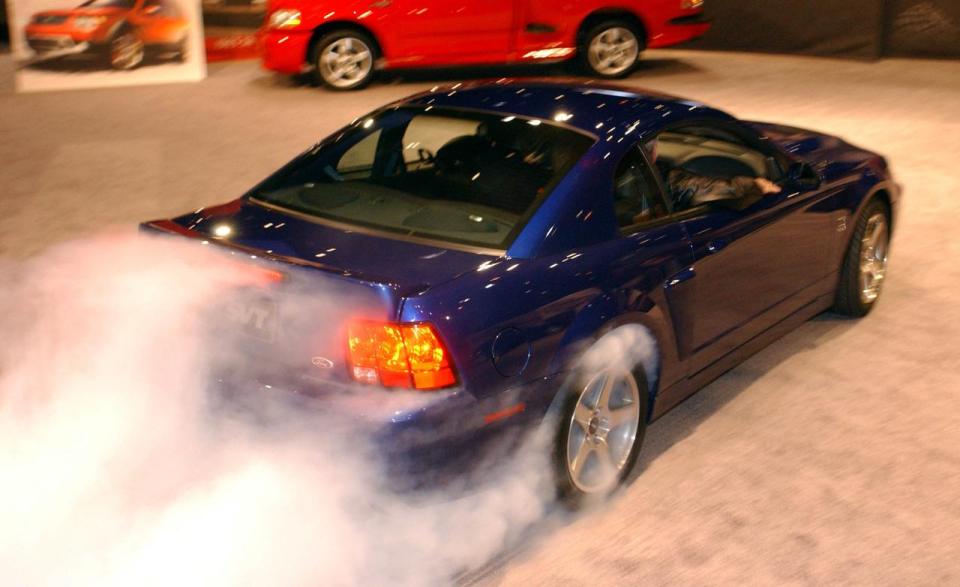 The 2003 Cobra was officially revealed to the world at the Chicago Auto Show in early February, 2002, in the form of a "Colorado Red" convertible (shown at the top of the page), and as a "Sonic Blue" coupe, seen above. With SVT marketing manager Tom Scarpello in the driver's seat of the coupe, accompanied by John Coletti, their entrance went up in a cloud of smoke. That was literally due to the burning rubber of the back tires, but there was no mistaking the new Cobra! Although camouflaged prototypes had been seen during previous months around SE Michigan, it was now official.
Almost immediately, the automotive journalists came out with review after review praising the new model and all its attributes - especially the fun-factor. Since then, the Terminator has found itself in the media with an incredible fan base, even after all these years. Many articles related to the car are even featured all over this site. For the remainder of the press releases and other material, be sure to visit my SVT Documents page. In the meantime, there is a spec sheet from Car & Driver and a hands-on Terminator test and review video from them you can see by clicking the image below. It's a large file, so be patient (It can also be viewed right on YouTube if you prefer).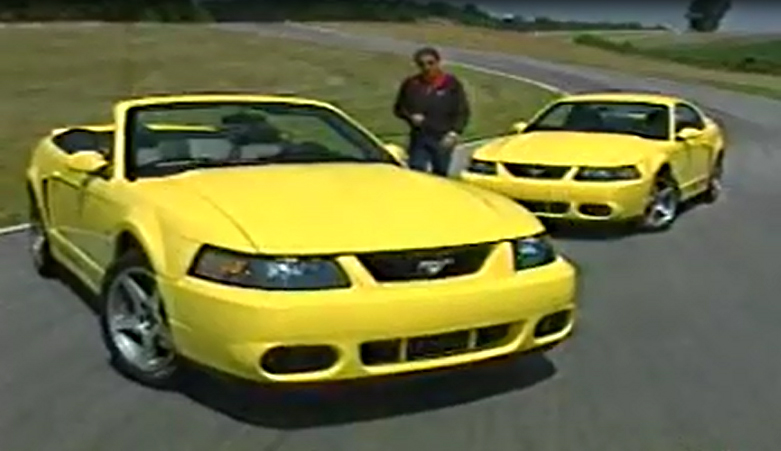 For some very neat Terminator history, I had to add this section pertaining to the five Pre-Production, or "PP" vehicles that were built in January and February 2002. In early 2015, I became acquainted with Matt H. of Jackson, TN who had an interesting story. Matt's Mach1, with a Terminator engine conversion, had some unusual signatures on the passenger side cam cover that he wanted to know more about.
Those extra signatures are from SVT engineers Brian Roback and Brad Lammers, along with initials that are most likely those of Cary Kramp, who was the Romeo Niche Line coordinator back then. As it turns out, his engine is the very engine that was initially installed in the red convertible that was featured at the Chicago show, having been personally built by Brian and Brad. Very cool! Apparently some SVT employees were a bit naughty back then, and even though the PP cars were destroyed, parts of them made their way out to the real world!
Even better, Matt did some digging on his own and was able to get some history on the car and engine (verified by its VIN stamp) from my friends that were once at SVT and had run the former SVT Owners Association. One of the documents that he acquired has the VIN's and some basic information, which I have summarized in the table below. Although it is not in chronological order, it is listed by the sequence number used by SVT back then.
| | | | | | | | | |
| --- | --- | --- | --- | --- | --- | --- | --- | --- |
| # | VIN | Build Date | Style | Color | Interior Trim | Wheels | Emissions | Comments |
| 1 | 1FAFP48Y12F124873 | 1/30/02 | CPE | UA: Ebony | M2: Graphite | Chrome | 49 State | Plant vehicle |
| 2 | 1FAFP48Y02F120569 | 1/31/02 | CPE | Z1: Oxford White | M2: Graphite | Machined | 49 State | Durability car |
| 3 | 1FAFP48Y72F120570 | 1/28/02 | CPE | B7: Zinc Yellow | M2: Graphite | Machined | 49 State | Management car |
| 4 | 1FAFP49Y02F120571 | 2/1/02 | CVT | D3: Colorado Red | M2: Graphite | Machined | 49 State | Auto show car |
| 5 | 1FAFP48Y32F137916 | 1/25/02 | CPE | D3: Colorado Red | MH: Parchment | Machined | Canada | 8-hr durability car |
With all VIN's, the tenth character is a "2" since the Terminator was originally going to be built for the 2002 model year. Since that did not happen, the production models were ultimately built as 2003's, but came down the Dearborn assembly line still mixed with 2002 GT's and V-6 cars - a very unique occurrence, to say the least. Interestingly enough, four of the five PP's were built with U.S. delivery specifications, whereas the fifth was the first with Canadian equipment. Some other interesting information can be found at the end of the table, showing the purpose of each. Note that the "Canadian" vehicle, the first built, was also used for durability testing at the former Firebird Raceway near Phoenix, AZ.
Even though all these cars were essentially prototypes, they are shown to have been built at the Dearborn plant. If you click on each VIN above, all their build summary's are also attached - some more great information if you really appreciate the roots of the Terminator. Oddly enough, the other Terminator that was displayed at the Chicago Auto Show was not a PP vehicle, but I'm guessing it had been destroyed as well (if someone out there knows, it would be great to find out).
Back to Matt's Mach1, he was also kind enough to send a few pictures along, including one of the Ford OASIS (On-line Automotive Service Information System) report. The gallery below shows the engine as it sat in the show vehicle as well as some as it is now in Matt's car (note the design of the brushed supercharger pulley cover). It's nice to know there are still documents and information out there that have been preserved for this long and can be made available to those of us that appreciate them. Thanks a bunch, Matt!

In June of 2006, after 16 years of ownership, I sold my 1990 LX 5.0 hatchback. For the most part, it looked better on the day I sold it, than when I bought it new from the former Okemos Ford in Okemos, MI. Like most Fox Mustang owners, I couldn't leave well enough alone and was always tinkering. Fortunately, I never had any mechanical problems, and overall, it remained as fun to drive on the first day of ownership as it did on the last. I hated to sell, but back then, it was in the cards.
It didn't take very long to realize I missed owning a Mustang. I really liked the "New-Edge" design change in '99 and even tossed around the idea of acquiring a 2000 Cobra R or finding a low-mile '01 Cobra to modify (the Independent Rear Suspension was a must). Whatever my next Mustang was, I was sure it would be an SVT product. After all, if you own a Mustang, why not go with something unique. Even more so, how could you go wrong with the tenets of an SVT vehicle: Performance, Substance, Exclusivity, and Value. As fate would have it, a 2003 silver metallic Cobra coupe found its way in to my possession.
While I was living in SE Michigan and "restoring" my Fox back then (a four-year project that began in 2000), I became acquainted with a handful of people at the local Ford dealership. Little did I know, my future Cobra was right there under my nose: the original owner was employed at that same dealership. Even though I had moved out of state by the time I decided to search for my "new" Mustang, the Cobra I stumbled upon turned out to be that one right there in my old neighborhood. It was meant to be - I jumped on the deal right away.
Fast forward many more years, and I'm still thrilled to have a Terminator. My intention was to leave it completely stock, essentially as it was when I bought it, but the tinkering bug had returned. Despite having a decent amount of work done to it - all by my own hands - I like the fact that my Cobra hasn't deviated very much from the OEM look (see the thumbnail above for my custom magazine cover!). It's in the power and handling department where most of the modifications are evident, which has made the driving even more enjoyable.
As I had done with my last Mustang, I am fanatical about keeping every document and piece of paper that came with car, any part, or any modification I have performed. Along the same lines, I am extremely meticulous about my work and I tend to take a lot of pictures, although my photography skills won't win any awards. With that in mind, the various pages on my site will map out my current projects, and even some more that are in the works!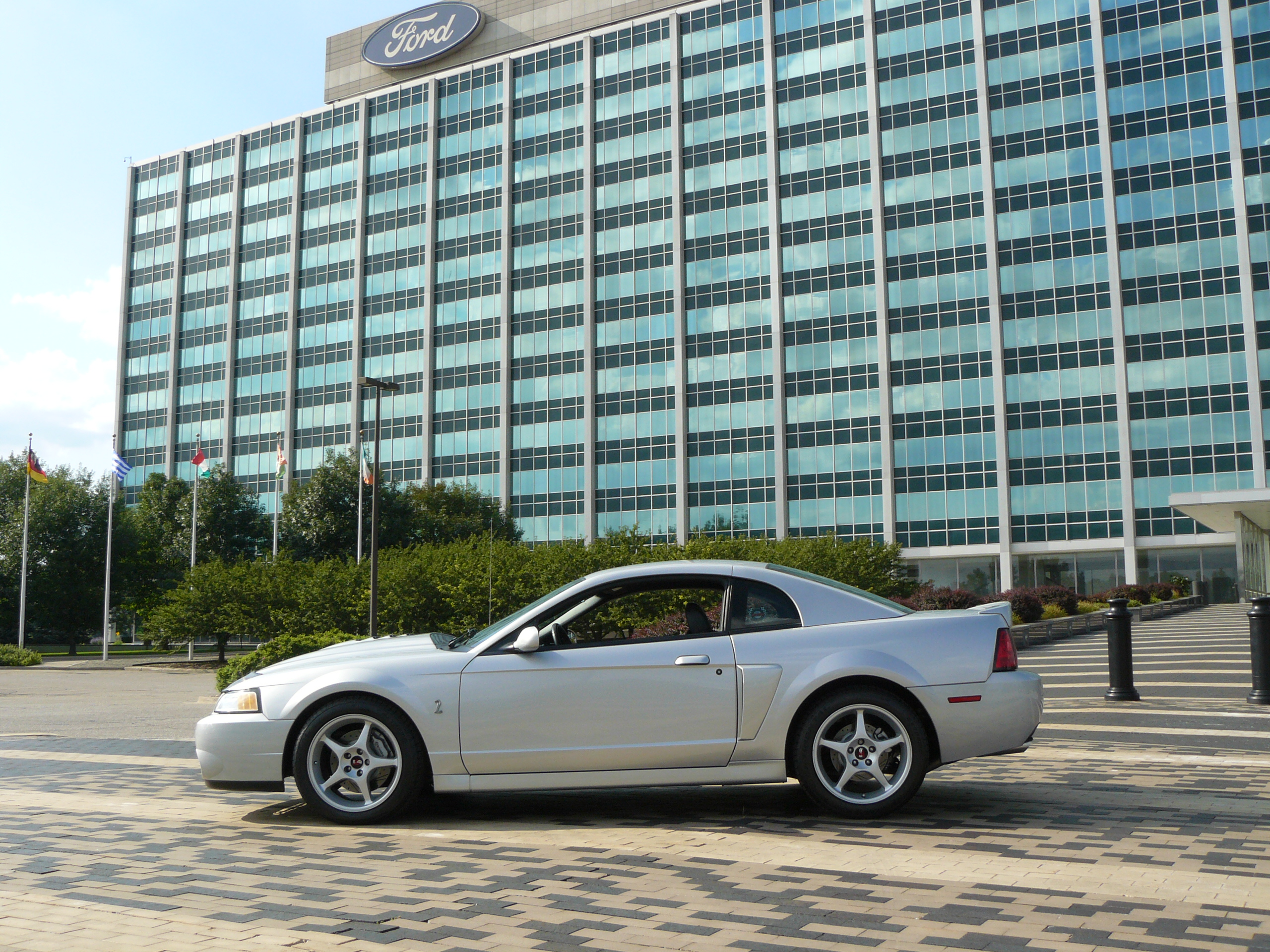 With all the modifications that most of our cars have acquired, it's probably worth mentioning something that is quite beneficial to have in order to protect your investment: collectors insurance. Stated values (i.e. "Blue Book") of the Terminators have been hovering just above $20,000 in recent years, but so many of them have a lot more hard-earned dollars invested in them and sell for significantly more. In simplest terms, if it gets wrecked, you lose a lot (well, unless you buy it back and part it out). With as many people out there that are more concerned with their social media accounts rather than paying attention while driving, a lot of CYA can't be overlooked in this day and age. Then again, there are also the guys that will slap big fat drag radials on their Cobra's and think they can handle the power on a rainy day...
In any case, I made sure to acquire an "Agreed Value" policy on mine for $35,000 in early 2016 just so I was covered in case of a loss. My thanks here go to the crew at Heacock Classic Insurance, owned by long time car fanatic Ford Heacock (fitting name!). In addition to being an all-around nice guy, Mr. Heacock is also a member of the Mustang Club of America (MCA) as well as a sponsor, so he is definitely an enthusiast to say the least. For my policy, coming in at about $500 per year, it's a no-brainer with all that has gone in to this car, and the great people at Heacock made this a cinch to put in place.
There are also many companies out there that provide this insurance, so be sure to do your research and find one that works best for you. Chances are, you'll need another vehicle as your daily driver for these policies to take effect, and your Mustang is going to need a significant amount of documentation (disregard if you drive a high-mileage, beat-up, low-valued, multi-owner car!). So what are you waiting for: if you've modified your own pristine Cobra, get it covered! Rant over.
Note: Something else to consider with collector policies: many, if not all, do not allow for any kind of racing. Since I couldn't care less about drag strips, it was not an issue. I did actually have plans to attend some performance driving events at one point, but rather enjoy the spirited real-world drives just fine. Good enough. While some companies may have waivers in this area, I never bothered to put in the research there, so be sure you do if that is your thing. Rant and Public Service Announcement now over!

Before moving on, I had to mention a June, 2013 article in Mustang Monthly magazine entitled, "Top 10 SVT Cobras", by my friend John Clor, host of Cars In Context, and author of Mustang Dynasty (cover shown in thumbnail). If you haven't read the article...well, never mind - just go to the link and check it out. We should all thank him for his great thoughts (and many of his writings!), but for a "boost" to Terminator owners. Thanks, John!
Note: Along with being a Mustang fanatic and all around nice guy, John is also the Enthusiast Communications Manager for Ford Performance, oversees the Ford Show Parts Marketplace, and writes for the MCA's Mustang Times. He's a regular on the show circuit and events for Ford, and not too long ago finished Mustang 2015 - a must-have for any Mustang enthusiast. If you ever get the chance to meet John at an event, don't hesitate to chat anything Mustang with him. He's the busiest guy I know, but always has time for his fans!
---