---
SVT Documents
---
As I had previously mentioned, I am fanatical about documentation, and here is where you can see all the "stuff" that was related to the Terminator. Not only could I not imagine having some of the basics when I buy a vehicle, I figure they are an even bigger bonus for subsequent owners. All of these items should be very informative, whether your vehicle is a bit thin on history, or if you'd just like to see some of the things that probably have long been forgotten.
Monroney sticker
Monroney sticker? If you haven't heard the term before, you probably aren't alone, but you'd know exactly what you are looking at when it is called by it's common name: the "window sticker". The name Monroney comes from the Oklahoma senator who sponsored a bill in 1958 to make these mandatory. They contain a wealth of information, and are a must-have in the files. For a complete history of them, check out the Wikipedia page with all the details.
If you are one of the unfortunate souls who is missing this, you are out of luck at the moment. At one point, the originating dealer could order a re-print if it was within seven years, but those days are gone. For 2007 and newer vehicles, Ford provides the option of obtaining a PDF version on-line, but we aren't so lucky when it comes to the Terminator. Keep your fingers crossed though, I have been told there may be official reproductions coming at some point! When I have more information, I will be glad to pass it along.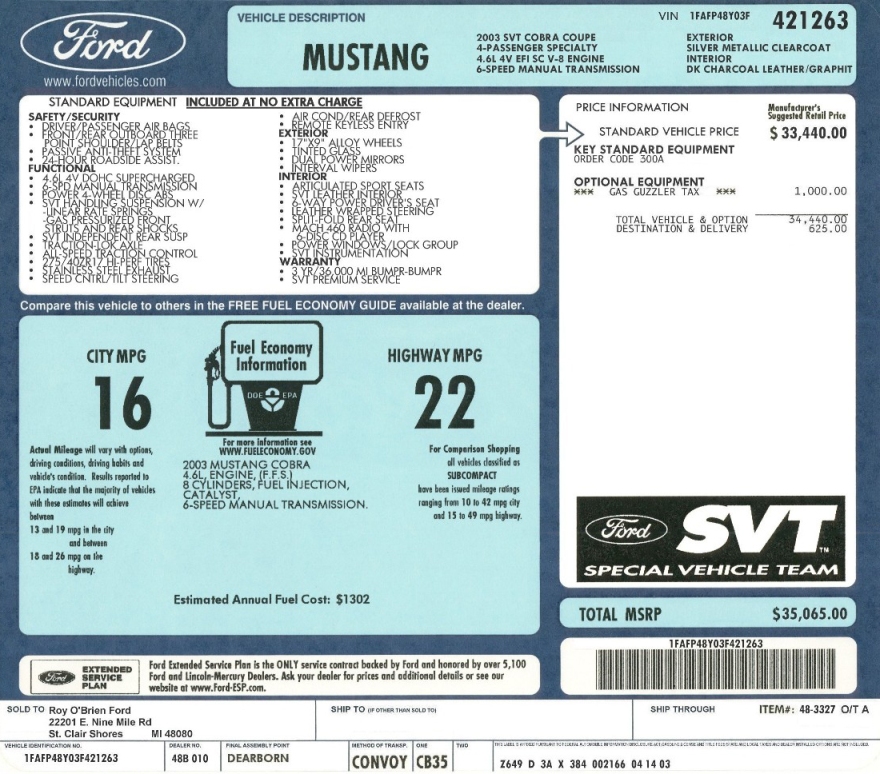 Build certificate
The build certificate is another item that is a nice touch for a "limited edition" vehicle like the Cobra. For new owners, these were mailed out after the vehicle was purchased and were accompanied by letters from SVT, as seen further down on this page. The original certificates, like mine seen below, had the signatures of John Coletti and Tom Scarpello, but that changed after 2004.
Since they do occasionally disappear, not to worry, you can replace yours with an updated version by going to the Ford Show Parts web site (you will receive a 15% discount if you are an SVTOA member). Before you do that, however, have your VIN handy in order to fill in the blanks. If you would simply like to know your production number and date, a call to 1-800-FORD-SVT will get you the information you need.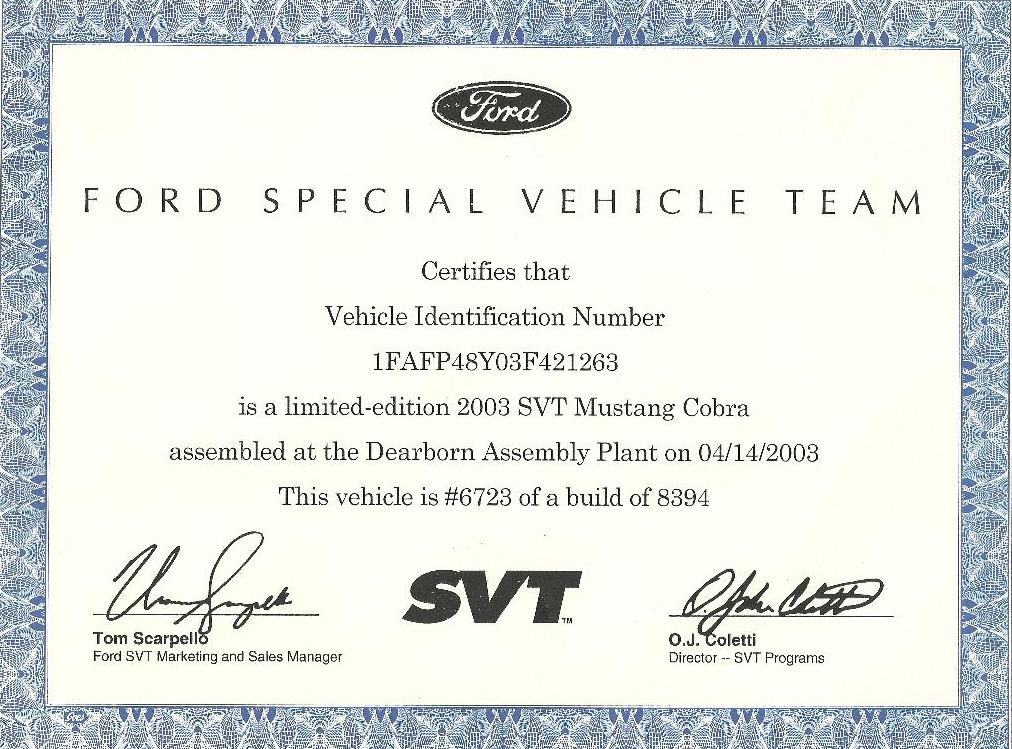 Build sheets
The build sheets have been a source of mystery for years. Most guys will say they never found their build "sheet" (singular) when, in fact, there are actually seven pages that are attached to the vehicle and its components when it travels down the assembly line. With regards to the Terminator, each vehicle would have them referring to the various sections of: Axle, Chassis, Engine, Instrument Panel, and Trim builds. In addition, there is a master summary of all the build sheets titled the "Mandatory Compliance Inspection Report" that also contains final electrical test results and alignment specs.
One of my regrets as a Mustang owner is that I never took a tour of the Dearborn Assembly Plant (DAP) before the last Cobra was built, or when Mustang production ended in May 2004, but that's probably what led to my fascination with all the documentation and history. The build sheets are no exception, and if you ever have seen them, you would realize how much information they contain. If you haven't ever seen them, not to worry, just click the picture below to head over to a whole new page with all the details.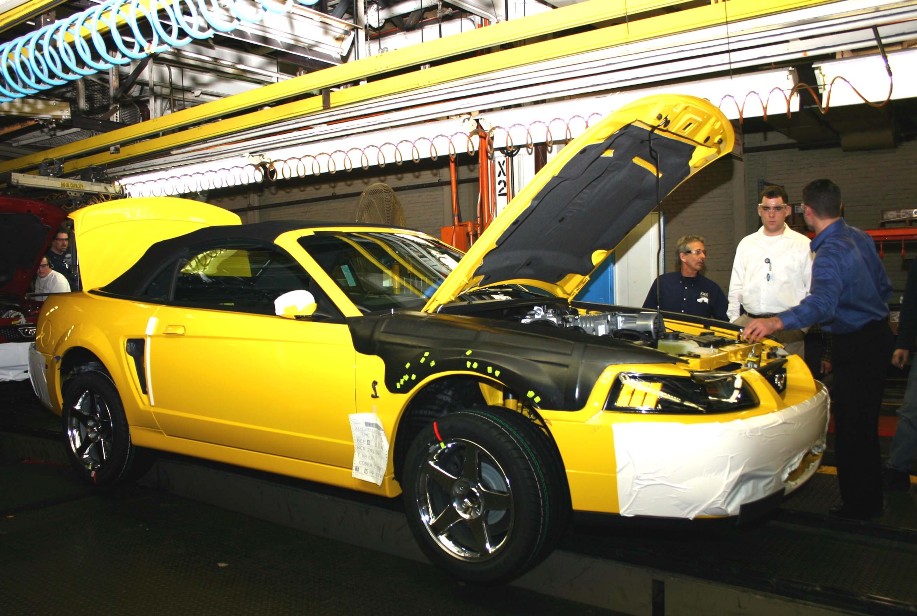 For now, here are a few other pictures from DAP with a Screaming Yellow '04 convertible showing some of the build sheets attached at various positions (images used with permission from Frank Moriarty). Frank definitely scored some neat pictures while the book was in the works, and every Terminator owner will be able to check them out in the new version of Iron Fist, Lead Foot!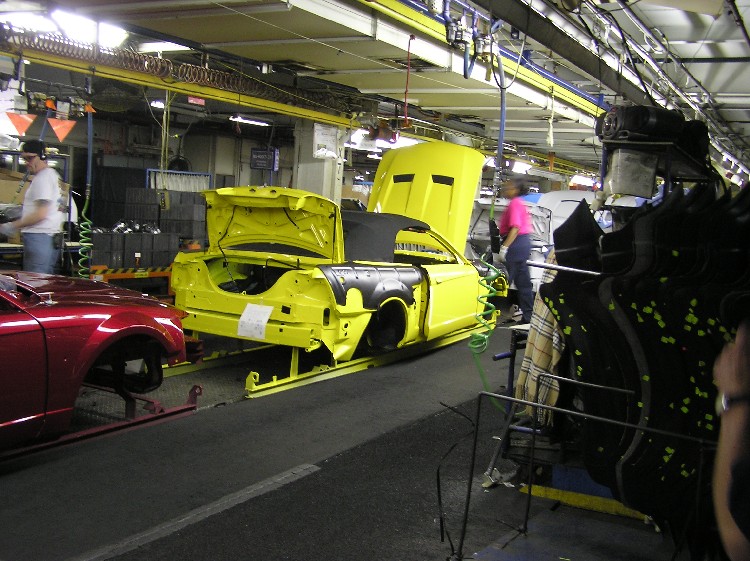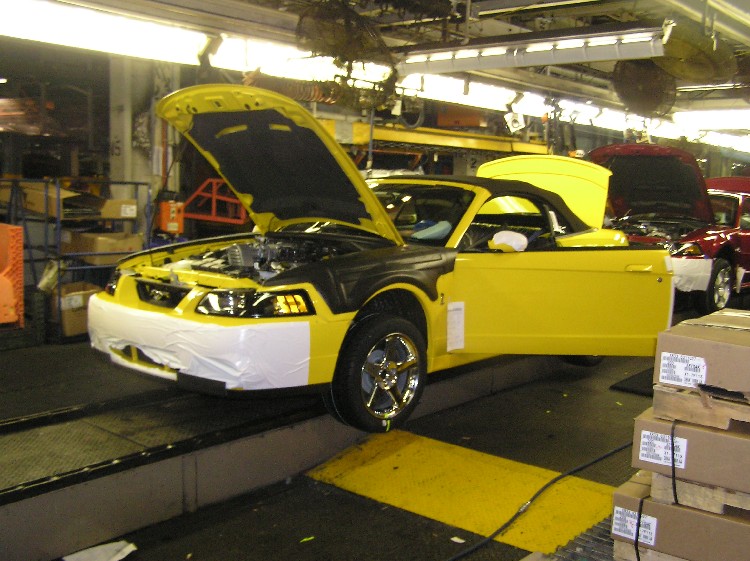 Note: Although build sheets are a thing of the past for the majority of vehicles out there, two similar alternatives still exists. The first is the Historical Vehicle Bill of Materials (HVBoM), which can be generated with any VIN through a dealer's parts or service department - for free if they are nice. The other is the "Comp Nine" report, which is generated by a third-party provider. This one will cost $5 through their web site, but you can run five reports - all for different vehicles - so it's not a bad deal. They both contain all the "feature codes" used to detail the vehicles assembly, just in slightly different format. I don't really have specifics as to what most of the codes mean, but they do have some neat information on them.
Build details

This is a document that Ford now calls a "Basic build sheet" which shows the VIN information and the build date, as well as the options that came with the vehicle. They used to be available for free by contacting Ford Customer Service, but now there is a charge for them. If you have any inclination to purchase one, go to the Shop Ford Gear website and click on the "Build sheets & compliance letters" button on the left side of the page. The free one I acquired a few years back can be viewed by clicking on the thumbnail.
Adding to this, there is also a VIN decoder on the Ford Fleet web site that will provide some information similar to the information contained here. If you are curious as to what all the digits in a VIN represent, wonder no more. The individual PDF VIN guides for each year are also available at the bottom of that page, but Terminator owners can get them easily enough right here for the years 2003 & 2004.
Note: The information in the VIN is morphed from all of the build sheets to give each vehicle its own unique, and federally mandated VIN label, which is attached to the driver's side door jamb. Like the VECI label under the hood, you can still acquire replacements through your local Ford dealer if you happen to need another or are a record freak like me and just want a spare (the last time I checked, the cost was approximately $20). If you have deeper pockets or time is of the essence (going through Ford may take a month or more), check out places like ECS Automotive or Auto Data Labels for exact reproductions. Other sources will also turn up through an internet search, with many body shops having their own connections as well (Thanks goes to David P. of Corona, CA for suggesting I add these details!). In addition to the data listed in the above mentioned VIN decoder, the Ford service manual also has a section at the front to decipher all the data on the label. If your vehicle is getting re-painted, or the original label is a bit beat up, you'll definitely want a new one to keep it legit!
Marti Report

If you still find yourself a bit short in the documentation department, another easily obtained addition is what is called the "Marti Report", courtesy of Marti Auto Works of El Mirage, AZ. These have actually been around for Mustangs going back to 1967, and have also become available for later models, including the Terminator. The information they contain is similar to what is in the Build Details sheet above - also direct from the Ford databases - but with some nice additional touches.
The sheet you would receive is a one-page breakdown of your VIN (also decoded through the VIN guides in the above section), but with extra details such as originating dealer, the dealer code, build statistics, and order & build dates. Also, an image of the vehicles VIN label is included showing the appropriate body codes. While I haven't acquired one for my own Cobra, Jason J. from Alabama was nice enough to not only send some pictures of his ultra-clean car, but to loan me his "Deluxe" report as an example for all to see. Thanks, Jason! Click on the thumbnail above to view his, and if you'd like one of your own, follow the link in the previous paragraph.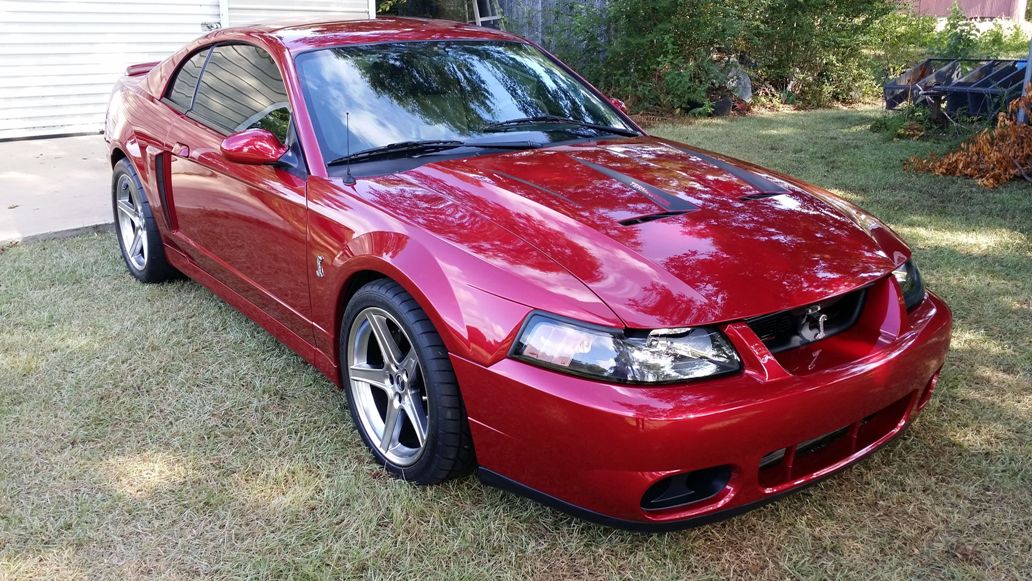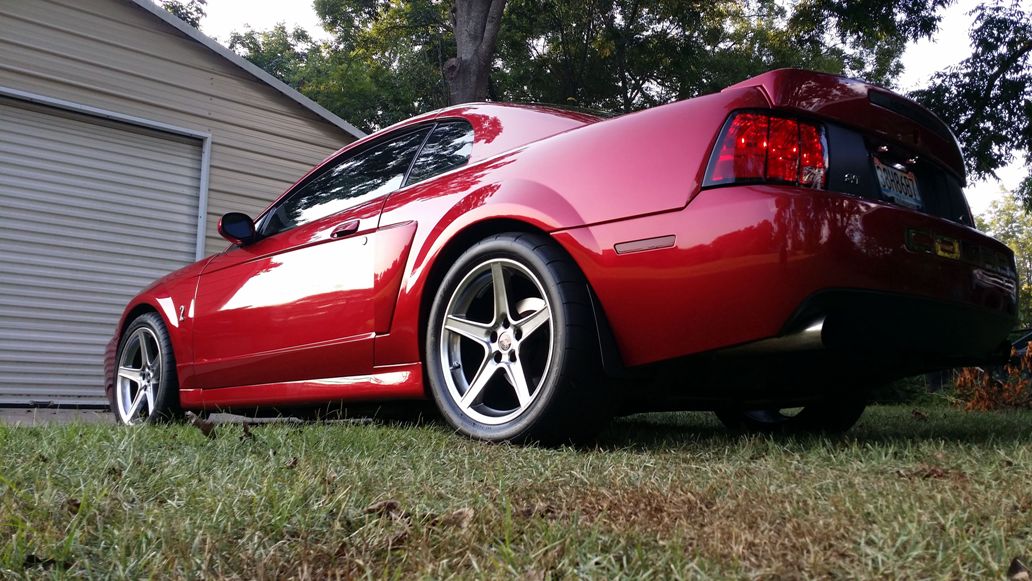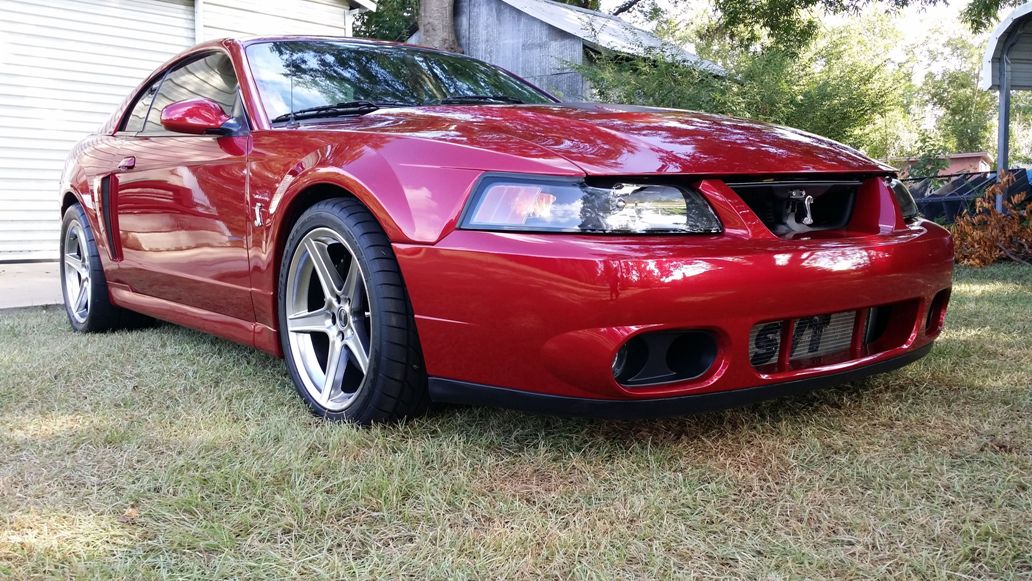 DAP final verification
This is a document I have seen only once or twice over the years, and one that rarely, if ever, goes with the car. What it is though, is an extra form used by line supervisors as a way to verify that unique parts are installed. This particular sheet is actually not from my own Cobra, but from the one with "rotation number" 7498, as seen on its upper right corner.
There is some interesting information on it, especially when it comes to those "Terminator-specific" items. Many of the details actually carry over and relate to the various build sheets as you should be able to deduce. Otherwise, it is another piece of Terminator history that doesn't come up often.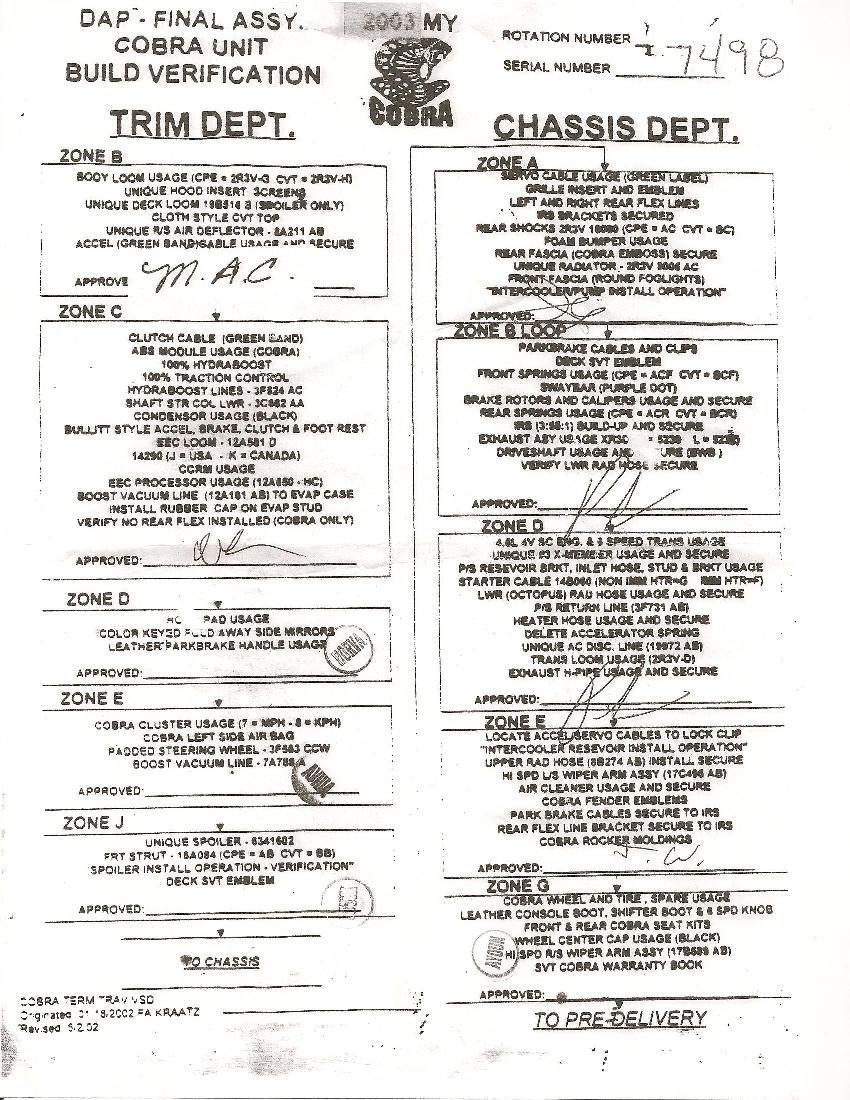 DAP drive verification
Every so often, random vehicles are selected for some additional quality control reviews after they come off the assembly line. If your Terminator happened to be one of these vehicles, you would have found a laminated card (seen below), along with a label telling you as such. I don't know how many vehicles were selected for a test drive, but feel honored if yours was among them - unless it's the one pictured in the corner!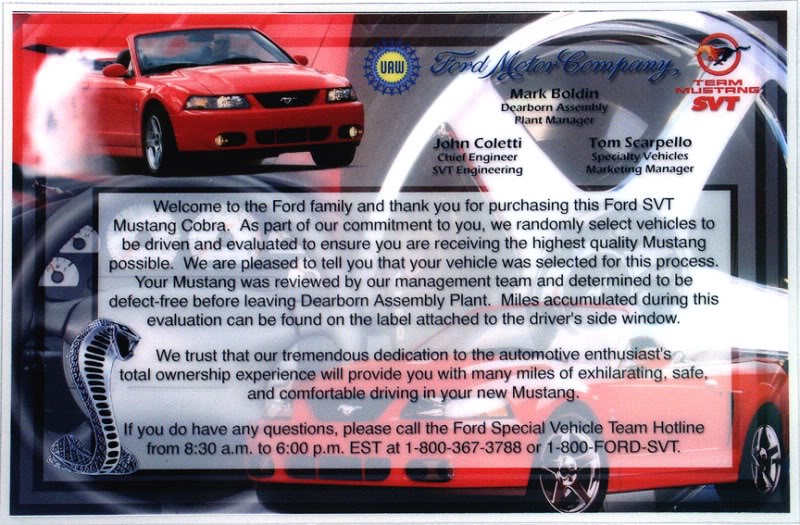 Terminator brochures
If you are a collector, it's common to have manufacturer literature that pertains to your vehicle. This is definitely true for the Cobra, and on a good note, these documents are still easy enough to purchase through the internet. Alternatively, each brochure and the accompanying data card can be downloaded here. The brochure is a complete PDF version, however, the data sheets are only images of the back side of the respective card.
SVT Product guides
Here are two rarely seen documents put out in both 2003 and 2004 that list all the SVT vehicles for both years. I was fortunate to have the 2003 version in paper form, so I went ahead and made an electronic copy to place here. The 2004 version was already digital, so it was easy. Both documents also have sections on the specialty vehicles, and of course, specifications for the Terminator. Overall, more neat information from the folks in Dearborn!
Press kit
Believe it or not, there actually was a press kit released to the media for the 2003 Cobra. If you happen to have one, as I do, count yourself lucky since they are extremely rare. The "kit" is actually a spiral-bound booklet with a lot of great information, including a CD loaded with media images. If you'd like to see it, click the picture below (which is its cover) and you will be re-directed to a new page with all of the details!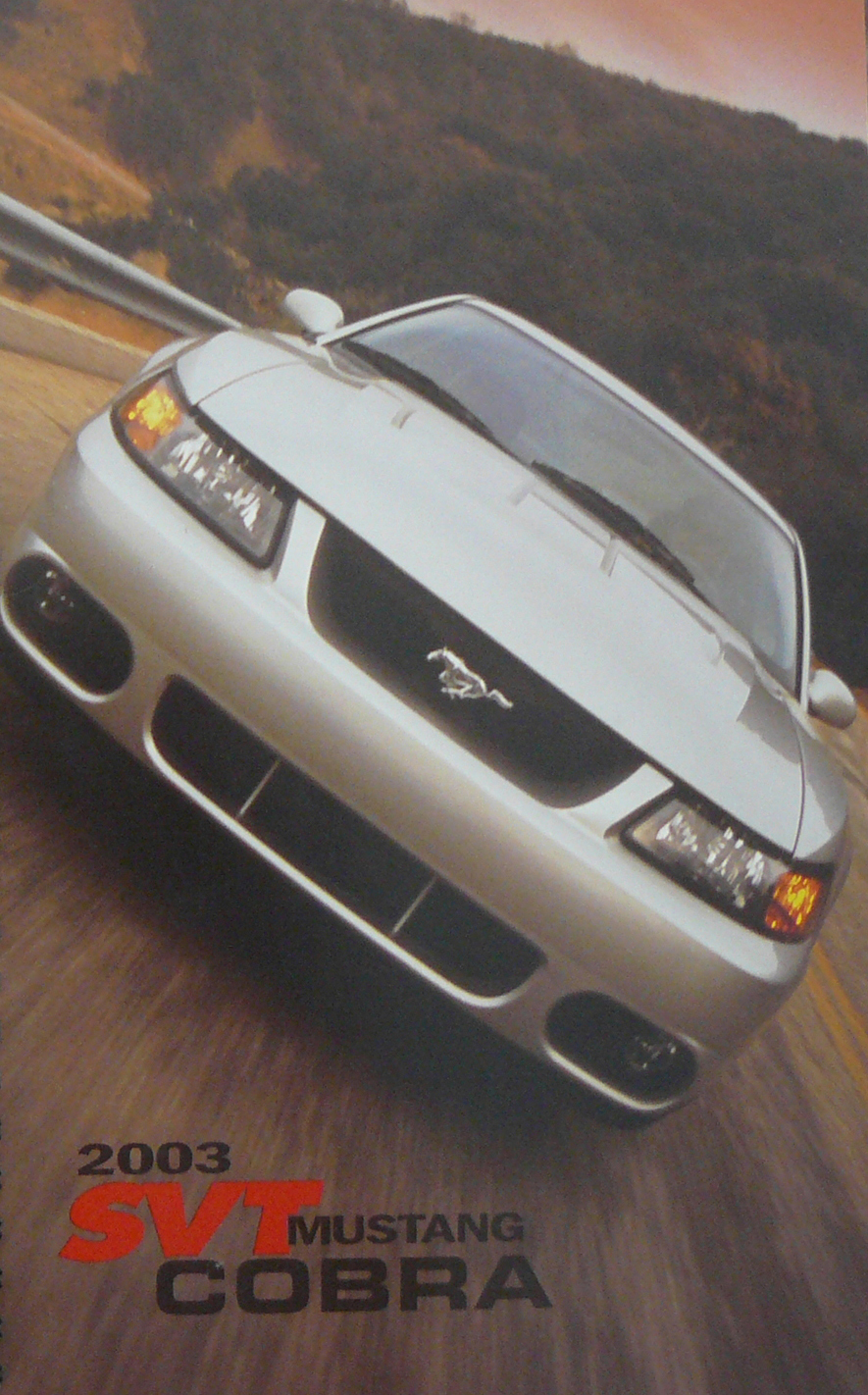 Note: There was not an official Press Kit released for 2004, which makes this one that much more sought after. Ford did, however, have a CD that was available to the media with images for all 2004 vehicles, which includes a Mystichrome Terminator (there were also the Product Guides, as seen above). The media images can be found on my Special Editions page.
Press releases
Until recently, the Ford Media site would allow a search, and download, of archived press releases. In terms of the Mustang, the site has been updated towards an emphasis on the 50th Anniversary, so all the old press releases no longer exist. If you wonder what Ford put out pertaining to the Terminator, you are in luck, I have them here. Each of the documents cover the 2003 & 2004 models in various detail, as well as some of the SVT background. I can't say with 100% certainty that I have all of them, but these are the ones I saved in any case.
2003 SVT Mustang Cobra Chassis 2003 SVT Mustang Cobra Overview
2003 SVT Mustang Cobra Overview 2 2003 SVT Mustang Cobra Powertrain
2003 SVT Mustang Cobra Powertrain Specs 2003 SVT Mustang Cobra Special Features
2003 SVT Mustang Cobra Technical Data SVT Mustang Cobra IRS Inside Story
SVT classroom training
This is a neat document that was part of the training program that SVT techs went through at one time or another. It is dated September 2003 and spans 270 pages covering the Lightning, Focus, and of course, the Cobra. Be sure to pay attention to the section on "Aftermarket" modifications!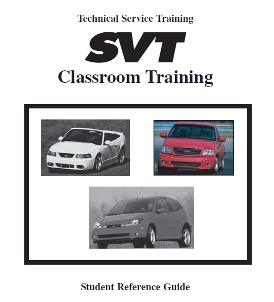 Welcome letters
Along with the build certificate that was sent to original owners, there were also a letter that detailed the SVT program and ownership benefits. For 2003, new owners were also given complementary memberships to the SVT Owners Association (SVTOA), and Team Ford Racing (since absorbed in to Ford Racing). Those letters are shown below
Powered by SVT
With the purchase of a 2003 SVT vehicle, a book entitled Powered by SVT (ISBN: 0760742197) was sent out to the new owner. It was written by Jim Campisano, the former editor of Muscle Mustangs & Fast Fords magazine (he has since defected and is now a contributor to Super Chevy magazine) and contained another letter signed by Tom Scarpello. Even though I wasn't the first owner of my Cobra, I was still lucky enough to obtain the original book, still completely sealed. Of course, I wanted to know what was in it, so I picked up a spare to thumb through while the original remained un-touched. You can still purchase this book new through the SVT Store (formerly the SVTOA store) or Ford Show Parts, so if you are a history buff looking for an an un-tainted copy, this can't be beat. Otherwise, there are probably plenty of used copies still in circulation. Either way, it's another great one to have on the bookshelf!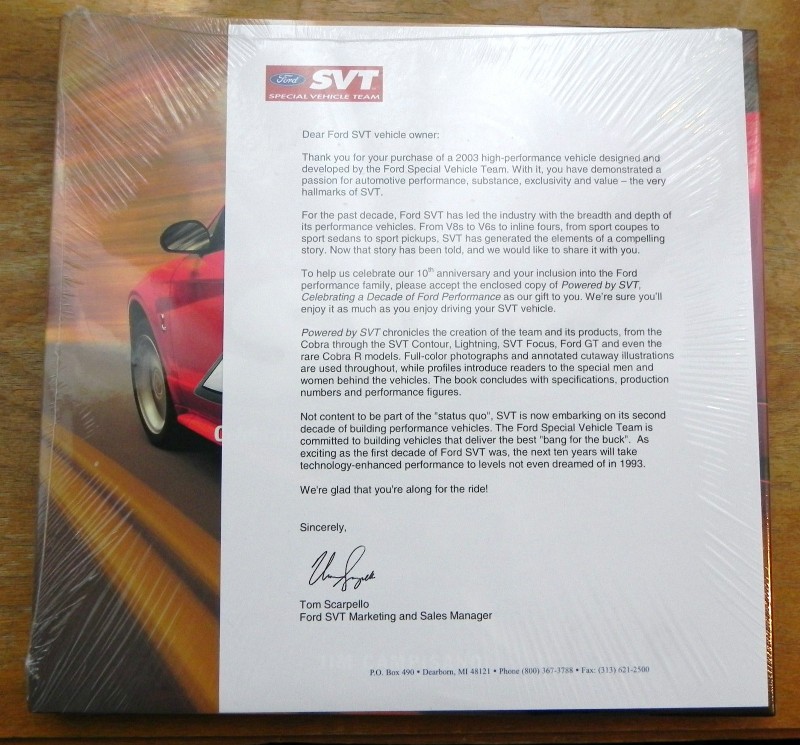 SVT Supplement & manuals
Along with the materials that are contained in the small zippered glove-box portfolio, SVT vehicles received a supplement that was specific to each model. If you have spent any time on some of the car forums and noticed questions like "How much fluid does my transmission take?", or "What fluid do I use in my intercooler reservoir?", you might know that answers to these, and other basic questions can be found in the supplements. If you don't happen to have one - no excuse - you'll be able to download it right here.
The supplements and owners manuals are still available in electronic format through Ford Owner, and Motorcraft Techincal Service Information sites, but feel free to click the links below. There are also some other documents available for download, such as the Maintenance and Warranty guide if you have to have electronic versions. Paper reproductions can also be purchased through Helm, but there is always eBay.
Service Manual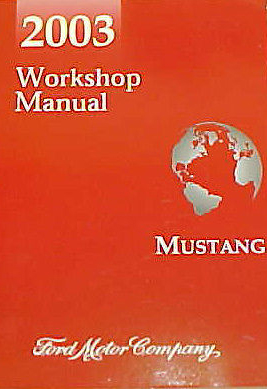 If you are so inclined to keep both the paper and electronic copies of the service manuals on hand, you'll know the Ford publications can't be beat. Even better: know that you can work on your car and have the correct information on hand. No sense in putting questions up on forums asking "How To" when it is spelled out plainly by the people that built the car! The hard copies are also still available through Helm, but they do turn up frequently on the used market and are far superior to anything you can find at certain auto parts stores.
Fortunately, I have the Zip file - click the thumbnail - that is available with instructions that should make it easy enough to use if you are content with a digital copy. If you don't want to fuss with setting it up on your computer, feel free to download the hard copy, but be aware it is over 4,000 pages. On my Engine page, there are also smaller segments of the manual in PDF format that will be more convenient.
Note: Since all the documents on the site are in PDF format, including the hard copy of the service manual, be sure you have Adobe Reader. If you choose to have the full service manual on your computer, you'll also need the Reader in order to pull up the wiring diagrams. I probably should have mentioned that right off the bat, but it hopefully is a program just about everyone will have.
Ordering guides
The "Ordering Guide" is a document used by the dealerships that contains all the specific codes and features - very useful if you happen to order your vehicle new. Much of this information will turn up in the vehicle brochures, but there is still some nice detail in them. The 2003 guide pumps up the new Terminator as an upgrade from the previous Cobra, and for 2004, it is very similar with the exception of the new paint codes, interior trim colors, and convertible top color. Interestingly enough, the 2004 guide (along with the brochure) includes information on the Mystichrome package, but the Anniversary cars were left out for 2003 since they were announced after the guide became available.
Service bulletins
The bulk of the Technical Sevice Bulletins, or "TSB's" are listed as a single document through the button bar on the left side of the page. I also decided to throw a few of the "popular" ones up here. All of them are downloadable easily enough by searching the Internet, or you can go to StangNet for an updated 1996-2004 list, including the links to PDF versions.
03-11-04: Tick noise from engine - Cobra vehicle built before 11/1/2002
03-01-05: Passenger seat rubs against door panel
03-03-06: Drift or pull to right or left - Cobra models only
03-09-05: Clunk or pop noise from rear suspension - Cobra only
04-01-02: Interior trim - headliner sagging in rear
04-05-03: Rattle noise from instrument panel vents
04-13-04: Transmission rattle noise or difficult to shift - T56 6 speed manual
05-14-03: Squeak/creak noise from steering rack when turning
06-05-13: Engine misfire with trouble code... (The big one for the head "tick")
Miscellaneous
There actually are a handful of other documents that I have saved which come in handy. The first is what can be called the "crash pages", which is actually just a vehicle part number breakdown that is used by body shops. It's nice to have this as a reference since the Ford Parts website no longer lists complete part numbers (although many are available again through Tousley or Tasca). Even if you aren't a Terminator owner, it probably will be good to have.
Along the lines of parts, I've always liked the fact that OEM accessories can, or could, be purchased directly through Ford. The second item here is a listing of Mustang Accessories for both 2003 and 2004. Most of what is contained within is really just for reference since so many items are no longer obtainable, but if you happen to score certain things off the internet or through other sources, it is nice to have the part numbers for verification.
Finally, I've attached another document that contains a list of Ford base PART numbers (not to be confused with engineering numbers). It is another good one, especially if you track down your own parts. Keep in mind that it does not list prefixes and suffixes, so you'll need to have them for specific vehicles. Still, if you are a DIY type, these numbers are worth becoming familiar with. For a little more reference on reading the part numbers, a somewhat older Prefix Coding list will get you started.
---